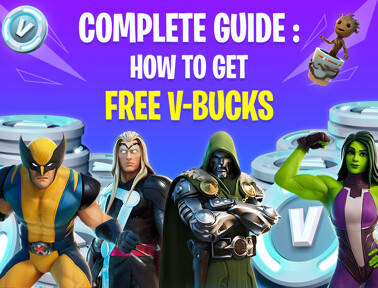 How To Get V-Bucks For Free
Posted by Alex Lee May 23, 2021
V-bucks are essential for any Fortnite player. Skins costs money, as well as upgrading your battle pass. Battle Pass is practically a must for any player. Luckily there are multiple safe ways to get free V-bucks that do not require you to share any details. Discover all ways to earn V-bucks and upgrade your battle pass for free!
2
Other In-game Methods to Get Free V Bucks
Fortnite unique gameplay experience introduces more actionable ways to Gain free V-Bucks once you are aware of them. Most likely, you are already eligible for such a bonus without being aware of it. Check out each one of the opportunities listed below and discover the ones potential for you...
V Bucks Redeem: Daily Game Log In
Fortnite 'Save The World' exclusively incentivizes the
logging into the game
on certain days. These rewards are substantial and are not limited to V bucks and in time include legendary items, Llamas, evolution materials, XP Boosts, and cosmetics. Save the World mode, grants small amounts of V-Bucks upon a successful login of each day - An easy way to
get free V bucks on a daily basis
, which can sum up between
200-600 V-Bucks a month
. Not all days are accountable for this reward. Check
this updated list
of accountable days to see what you can expect using this method to get Free V Bucks.
Participate in Events for Free V-Bucks
Fortnite mode traditionally hosts time-limited events, available to explore via the main Fortnite menu under the Quests section, for gamers to participate in. These events are in fact
missions with exclusive storylines
and progression systems. Once successfully accomplished, users are rewarded with a variety of items, such as skins & weapons, but most importantly -
free V-Bucks
. In some rare cases in the past, participants were
rewarded for merely attending the event
. Keep up to date with events through Epic
Save the World
news section.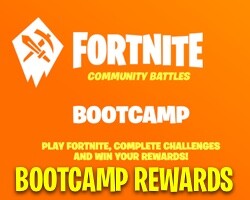 Win Free V-Bucks in Fortnite Bootcamps
Bootcamps are t
ime-limited events
in predefined countries orchestrated by Epic Games via a
dedicated minisite
. Participation requires a dedicated registration for the Bootcamp, which provides in return a list of
daily challenges
that needs to be won, to unlock the final reward challenge. This final reward challenge ranks the player with rating points for different in-game achievements, upon which
V Bucks are granted
. Bootcamp rewards are
highly valuable
and range between 200 to 2,500 V-Bucks, as carried out in the latest Bootcamp in August 2020. Check Epic Social pages and official publications to get notified of upcoming Bootcamp opportunities.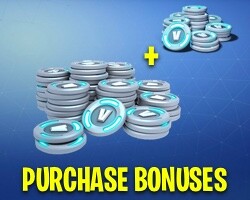 Get Extra Free V-Bucks Upon Purchasing
Purchasing V-Bucks on the Epic store or any of its formal retailers, such as
Amazon
,
Microsoft
or via a
gift card
, costs real money and you have to v bucks redeem them. However, each purchase transaction consistently makes the user eligible for an additional amount of
free bonus V-Bucks
on top, depending on the package bought. For example,
this 4,000 V Bucks bundle
grants the user with
1,000 Free V Bucks
on top which sums up at 5,000 v bucks prices in total. This pack of V bucks cost $9.99, and this package is exceptional as it does not introduce any free VBucks. Furthermore, the paid battle pass elevates the user's chances of unlocking exclusive challenges and potentially
earning more V Bucks
during the gameplay.
Community Q&A
Ask a Question
We will answer on your question as soon as possible