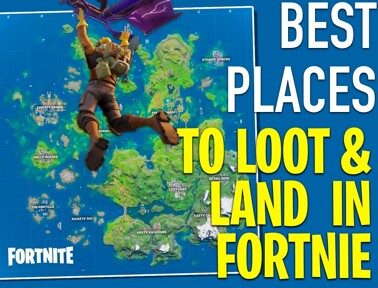 Where to Land & Loot on Fortnite Chapter 2
Posted by videogaming.gg May 2, 2021
Fortnite Chapter 2 Season 2 introduces many exciting updates for Fortnite fans, especially the explorers among them. It may seems at first that the island has rolled back to its recognizable pre-floods area shape since and the scope of changes feels minor. However, this guide will highlight for players at all levels few potential cartographic twists that trigger new opportunities to kick a whole new island-adventure while enrich their inventory with precious items, materials & sought for loots.
1
Best Places for Looting on Fortnite Chapter 2 Map

Some hot spots on the new map are brand new, while others may look familiar at first. In fact many of these introduce new and exciting challenges for players at all levels. Each of the locations in this list delivers a great looting potential on your way to Victory Royale.
2
Best Landing Locations on Fortnite Chapter 2 Map
No doubt looting is a prime objective for all Fornite players. A successful landing in a less crowded area filled with hidden treasures will grant you the best advantage over your competitors. These are the locations to land on the Fortnite Season 4 map:
Community Q&A
Ask a Question
We will answer on your question as soon as possible