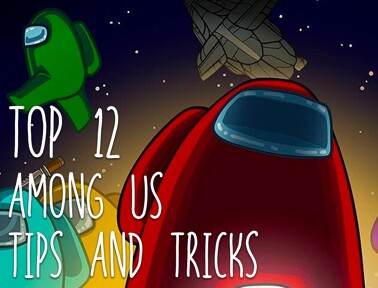 Top 12 Among Us Tips & Tricks
Posted by Kyle "Red is Sus" Shaw May 7, 2021
Among Us is the social deduction game that went viral this summer. Accessibility and availability of the game made a huge impact on its success and everyone has jumped into the spacesuits of the colorful astronauts. Complete tasks, discover imposters, kill crewmates, sabotage the ship and accuse innocent players! Game is available on PC, Android, or iOS. Mobile version is free to play.
Game features 2 roles on a spaceship heading to the homeplanet. One(or two) of the crewmates has been replaced by a parasitic shapeshifter - The Imposter. Their goal is to eliminate every crewmate and sabotage the ship using vents and deceiving others to stay anonymous.
Play with Friends
Probably the most important aspect of Among us - is its social part. Game features matchmaking lobbies, but unfortunately a lot of plates simply leave after being killed or not getting their preferred role.
We recommend playing this game with friends, since it is much more fun this way. Playing with friends will allow you to have the most enjoyable experience. Discover which of your friends is the best liar. Who can deceive better?
Find Communities
If you can't get 4+ friends to play Among Us you can try to find communities on
Discord or Reddit
to fill up full lobbies. This way you will be able to enjoy the full experience of a social aspect of the Among Us. You can find a lot of
discord servers here
filled with other players interested in fair Among us games. I've personally found a group of amazing players on one of those servers, we play few days a week and have a lot of fun.
Rules
The game is the most fun when everyone plays by the rules. The game features a list of rules that players should follow.
Most important rules to obey:
No talking before the meeting
No talking after(and while) being killed
Complete all tasks even if you are dead
Be polite and don't scream at the meetings
Don't leave games, this ruins fun for every other player
Learn Maps
Learn maps to remember where each room is located. Each Room has its
own name and purpose
. This knowledge will allow you to hide your evil doings or to deduct who was the imposter.
Learning map and vents will improve your game a lot, and you will win much more games as a crewmate or an imposter. You can use your phone as a secondary screen to keep the map open if you are playing on the PC.
Community Q&A
Ask a Question
We will answer on your question as soon as possible